View the full list of Senators here.
View the full list of Members here.
ECP-Members have been nominated in their individual capacity. All Members are outstanding cultural personalities. No Member represents an organization, institution or a state.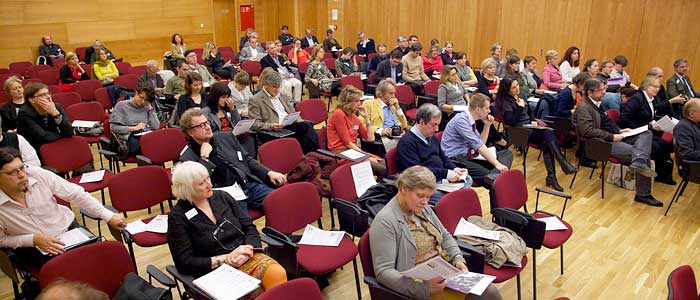 Each ECP Member is an important person in the cultural life of his/her country. He/she is also interested in discussing/debating and contributing with ideas, initiatives and projects for "Europe" in a broad sense, in the spirit of the ECP basic premise that ethical and aesthetic values are the essence of Europe.
Each Member is participating in his/her own individual capacity. Nobody represents any organisation/institution.
To be an ECP-member is a recognition of excellence, an honour compared to the membership of a prominent Academy. You may refer to your membership in your CV and as a reference.
The core of members was a group of about 40 persons convening at the first ECP session in Bruges 2002. This group had been nominated by the founding fathers/mothers of the ECP at meetings in Mainau 2000 and in Strasbourg (Council of Europe) 2001. The group of members has increased to 160 persons (from 43 countries) today, through three nomination channels:

An ECP-member may nominate a new member (according to the criteria above)
from another country than his/her own,
Each host city may nominate 3-5 new members from its own region,
Senators may nominate new members.

Members who have not been attending any of the last three sessions may be deleted from the list of members.
ECP Members are expected to participate in the annual session of the ECP. Those who are particularly active may also wish to join the work of one
of the ECP Think Tanks/research groups, which are established ad hoc year by year in order to deepen the discussion on various crucial themes.
ECP Members are also encouraged to establish new networks with other ECP colleagues or to initiate new projects. Some projects may be considered for
ECP patronage (using ECP logo – but no financial contribution)
Each ECP Member is expected to be "an ambassador of the ECP" in his/her own country and to spread ECP messages to media, society and politicians, messages like the Strategic Role of Culture in Europe.
The ECP sometimes receives invitations to conferences around Europe. For financial reasons it is often practical if a local ECP Member can represent the Cultural Parliament on such occasions, whenever feasible.
The ECP Senate consists of senior Europeans, mainly ex-ministers of culture, presidents of foundations, etc. Most of these persons were also active in the founding of the ECP in 2001.
The legal and financial status of the ECP is a German NGO ("Gemeinnütziger Verein"), based in Stuttgart. The ECP is of course politically independent.